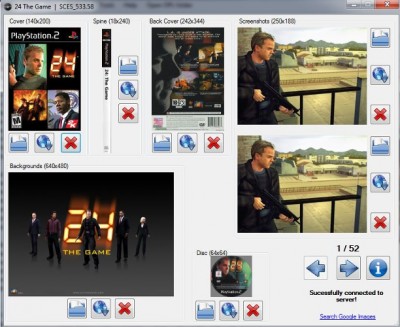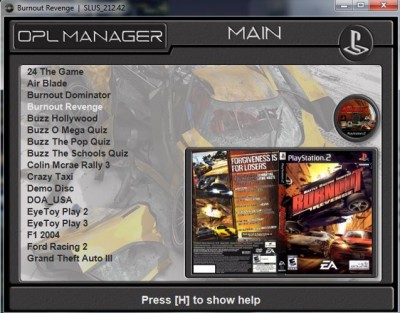 OPL Manager jest to narzędzie do zarządzania grami dla
OPL
.
Program pozwala na:
zmianę/naprawę nazwy obrazu ISO
pobrać obraz okładkipłytyzrzut ekranu danej gry
wyczyścić folder art z nieużywanych obrazów
edytować pliki kodów (cheats).
Zmiany dla wersji 19:
Cytat:
-Removed obsolete option to download ART from OPL server.
+Warn about long game titles
+Added new OPLM default art
*Fixed more issues when using screen scaling.
*Changed the version name scheme.
*Fixed strange game id's in UL format crashing OPLM.
*Fixed fetch title from db with special characters.
OPL Manager V20:
Cytat:
Fixed crash with UL games that have nonstandard game id.
Changed the default iso format to the old one.
Minor GUI arrangement changes on Manage Arts interface.
Updated languages.
Users now are always tracked by a unique identifier.
OPL Manager V21.2 (16/03/2018):
Cytat:
v21.2 2018-03-16
*Changed background color of ART Report image to gray
*Fixed crash in Batch Art Share when clicking Copy LOG
*Fixed missing text in multiple places
*Updated translations

v21.1 2018-03-10
+Added support to search for POPS folder at the root of the device
*Fixed bug in game list where a POPS game would show incorrect CHT status
*Updated translations
-Removed PS1 ID from CFG Editor and CFG files (not needed anymore)

v.21 (2018-03-07)
*Changed OPL icon created by Jay-Jay
*Changed POPS support.
Now it searches for the VCD files. Before it was the ELF files.
The VCD files should be named the same way as PS2 ISOs.
Example: SLES_014.04.Grand Theft Auto 2.VCD
+Added tool to help rename the VCDs with the game ID.
+Added support for LOGO (LGO) ART
*Minor rearrangements in the Art Manager UI
+Added option to not share art for selected games
*Fixed UI bug in the PS2 Cheat Editor
*Improved image caching system
*Fixed minor bug in Tools ISO Converter
+Added support for PS1 ART sharing
+Added button to fetch game title in the CFG Editor
-Removed the ICO/COV edit feature from the Main Window.
Please use the ART Manager to do it instead.
+Added a PS1 Cheat Editor
+Added Text equivalents of multiple CFG properties
(AspectText, DeviceText, ParentalText, PlayersText, RatingText, ScanText, VmodeText)
*Fixed OPL Simulator to properly show PS1 games
*Updated languages
*Fixed crash when deseleting a game in the game list
*Removed the auto-close of the Batch Art Share window
*Redirected all the HDL Dump debug output to a file: hdl_dump.txt
*Fixed the refresh game list in HDL mode not working
+Added the option to use other HDL Dump versions: 86,90,92.
Default is version 92
Version 86 is compatible with OPL built in HDL server
You can find the server ELF's in the lib folder.
Najnowszą wersję 21.2 (16/03/2018) można pobrać stąd
:
[PS2] OPL Manager
.
Strona projektu:
http://oplmanager.no-ip.info/site/
.
Źródło:
http://psx-scene.com/forums/f150/opl...-games-121516/
.